Building your Real Time Event Community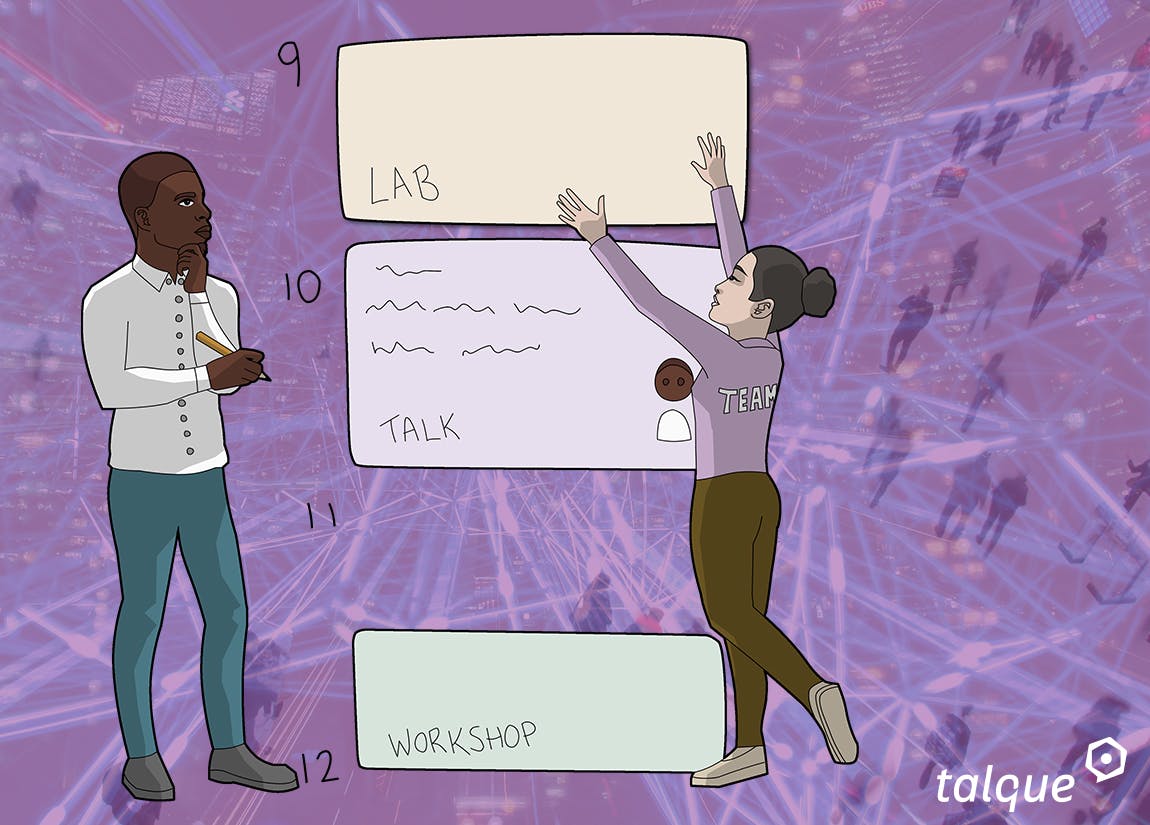 Founded by two former theorethic physicists, but not Sheldon Cooper and Leonard Hofstadter (ok, ok – he is an experimental physicist), talque has been raised since 2015 by current CEO Tassilo Ott and CTO Volker Braun and has grown into a complex and mature event community tool:
Build your event communication, information, interaction and management with one tool. Inspire visitors, participants and sponsors with a fully branded event and matchmaking app that is second to none on the market. Our promise: your event has never been more interactive, your participants have never been happier! And every change you make, for example in your agenda, goes live immediately. Create your lectures, workshops and other agenda items directly in our Visual Scheduler, move them around until everything fits, and gradually assign speakers and moderators to them. Let your speakers, exhibitors, sponsors, participants contribute their own content. talque solves your organizational painpoints with perfect workflows. A scalable big-table database guarantees that everything stays pretty fast and that you never technically reach your limits. The time that stays with you can be put to good use.
We want to help you as an organizer to master your challenges and solve your painpoints. So that you can build a growing and long-lasting event community and strengthen the following points of your event:
1. Increasing Profit for All
With a community based event app you increase the informative value of your event as well as the interactive value. You create a direct connection between all participants, whether speakers, guests, partners or sponsors. Make contacts and deepen new contacts - far beyond the event.
2. Saving Ka-ching
Why spend thousands countless hours and money on schedules and brochures that the majority of your participants will review just once before losing or shoving into their grab-bags? You can have a captain's bridge, a ship deck, machine room, galley and cabins for your hole event crew & guests built in less time, at a fraction of the cost, hassle, and wastefulness of expensive resources. A whole flag ship to communicate, to inform, to manage, to make contacts, to handle nearly everything.
3. Saving Time and Energy
Save up to 50% of your administration time and give the saved time to your sponsors and increase your services. You can create your lectures, workshops and other agenda items directly in your Event Management Tool, move them around until everything fits, and gradually assign speakers and moderators to them. Let your speakers, exhibitors, sponsors and participants easily contribute to their own content.
4. Sustainable Event Base
Once your mobile event community is connected at the levels of communication, management, information and interaction, it will continue to bear fruit long after the event. You will receive feedback, community members will expand their contacts professionally or privately and, most importantly, a satisfied event community will remember your event for a long time and recommend it to others. The ticketing for the next event can begin.
5. Trust, Convenience & lightning-fast Updates
As an organizer, you know this better than we do - events always mean short-term changes - sessions can be postponed, speakers can change, and it's important to keep the audience informed 'on-the-go'. Instant content updates mean less worry for all participants and more trust in you as an organizer. And you can always send a push notification to your guests to notify them of changes. Up-to-Date for everyone - ideally from the Chillout Lounge.
6. Private Social Network
Equipped with all the important functions that modern social platforms or social networking tools such as Facebook or WhatsApp bring with them, your event community can socialize with each other, share their experiences, organize meetings and have fun. Whether by chat, group, video call or in the event network itself. And all this in a closed and secure data environment in which not only the data but also the participants themselves are protected.