Digital Talents - The job fair for the Berlin digital scene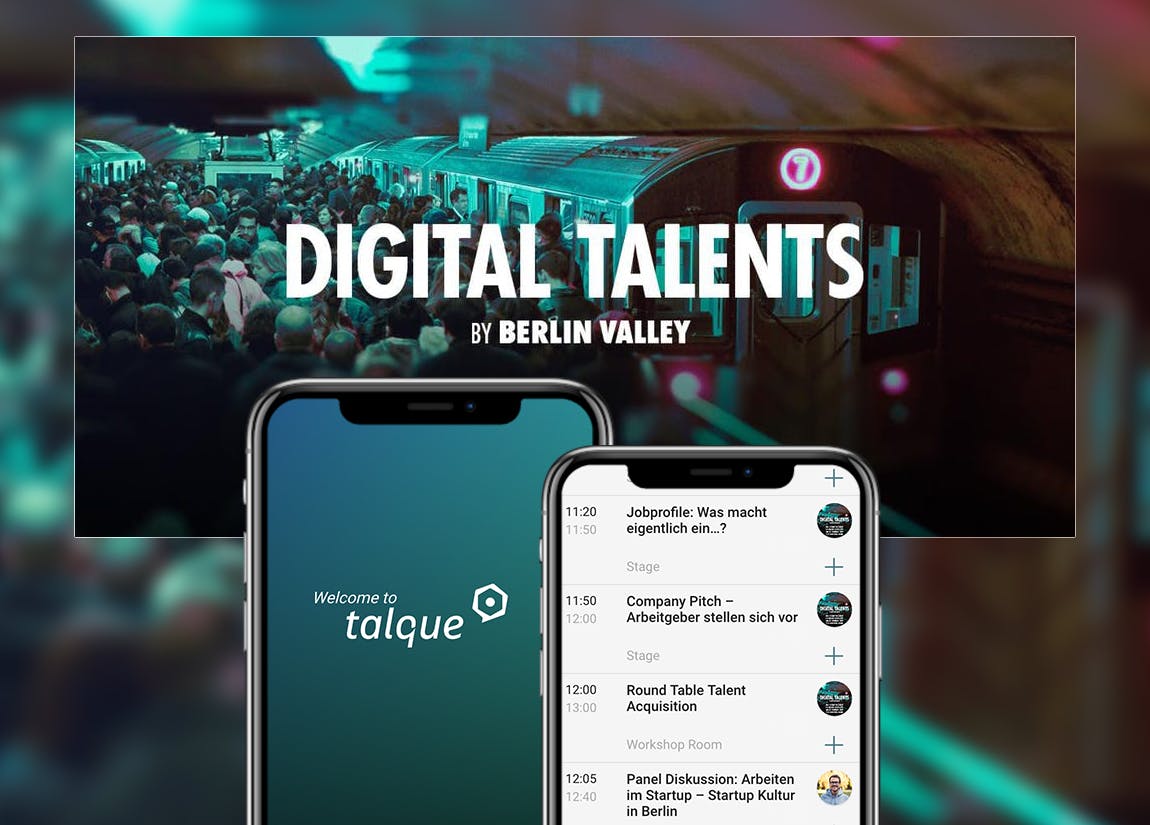 The Expo and Conference Festival brings together digital experts and young digital talents with the most important players of the Berlin startup ecosystem. Presented by Startup Magazine Berlin Valley. Industry insiders share their knowledge and give exciting insights into topics such as new work, recruiting and startup culture. Exhibitors on 02-07-2019 include companies such as ZENJOB, talent.io, 4scotty, VIMCAR, uberall and many more.
We will not only be there for you as an exhibitor, but also with our networking app and create the perfect basis for recruiters and job seekers to make targeted connections. talque supports you in informing you about exhibitors, speakers, other participants and the program and to get in contact with people interesting for you, to arrange short meetings on site and to stay in touch even after the event. You can also use the app to put together your personal agenda for the day and register for the Round Tables. However, be quick, as availability is limited there.
This is how it works: Simply log in with your email address or your Google or LinkedIn account, join the network and create your personal profile. Your access code for the Digital Talents is digitaltalents19 or simply click on the link.
After onboarding into the event app you are part of the community. Before, during and after the event you can communicate with participants and speakers. In doing so, you effectively help shape the program development. Use the matchmaking in Berlin to get to know each other personally.
You are also welcome to visit us directly at our booth. It's worth it! If you are a young professional, graduate or event manager yourself, we can give you technical insights and answer all your questions. But be warned, because our spectrum can also overtax you. Prepare yourself for a communication and management platform for events and business with an interactive app/web app, a collaborative content management system, customizable, responsive website integrations and an instant event website including participant management and soon also ticketing. Suitable for public events and internal networks. Cost and time saving, easy to organize and inviting to participate. Just drop by - we don't bite.
Your event app for the Digital Talents is available for iOS Apps from the App Store and for Android Apps from Google Play. Have fun!
If you have any questions about your Digital Talents App, please have a look at our FAQs or contact our support directly in the App.
If you like talque feel free to join us on Twitter, Instagram, LinkedIn or Facebook.
Author: Christoph Bartetzko