1:1 meetings allow event participants to schedule real or online meetings with each other. They also allow participants to contact partner staff easily. For on-site and hybride events those meetings can take place in a lounge, at dedicated numbered tables. You can even offer tables dedicated to specific partners for meeting their customers.
The configuration of 1:1 meetings is simple. You decide about the meeting times and for an on-site event create tables for these meetings. 1:1 meetings are an optional feature.
How 1:1 meetings are booked
You can configure a [Meet] button to appear on partner profiles for their staff:


The button [Meet] will also appear on participant profiles: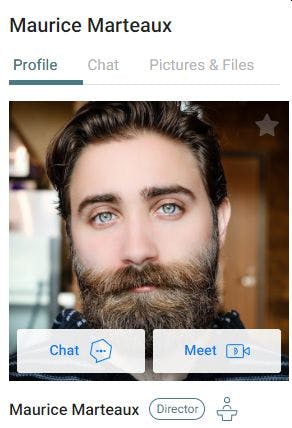 After pressing the [Meet] button you are asked to select meeting times. You can also add a message before sendin your meeting request.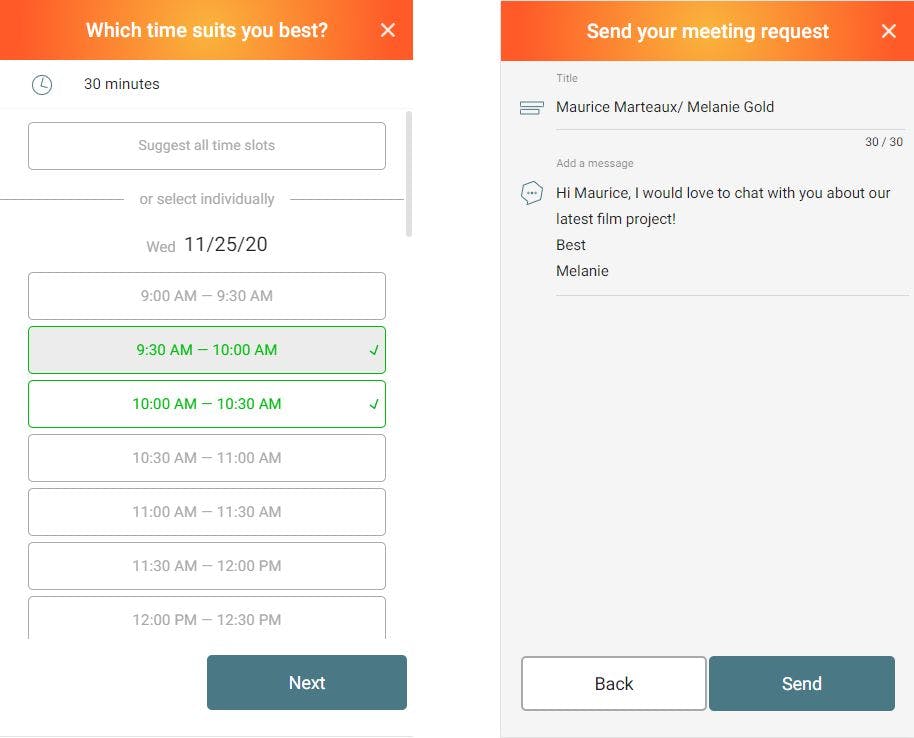 If you and the requested person are attending a meeting on-site, upon pressing the [Meet] button, you will first be asked, how you want to conduct the meeting: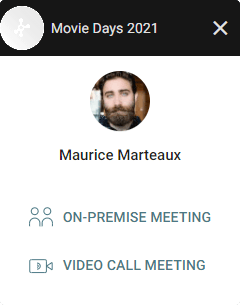 Meeting times and spots
Online events
For setting up the meeting times for virtual 1:1 meetings please go to Admin > Participant meetings > Settings > Video call networking times and add the meeting times.
These meetings times will affect all meetings planned via the [Meet] button. Private meetings planned via the talque messenger functions won't be affected.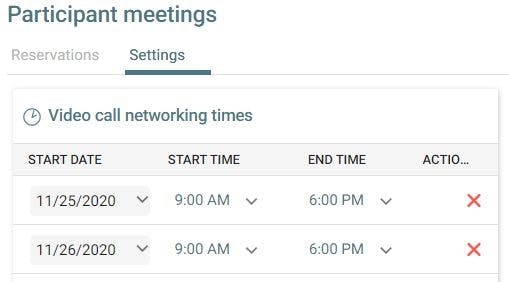 Tip: The onsite meeting times should only be during the physical event. Online meeting times can also include the day before and some days after the event.
Tip: The button [Meet] on partner and participant profiles will only appear once you have scheduled meeting times. Make sure those meeting times are in the future.
On-site events and hybrid events
In on-site events, this feature can be used for different purposes:
1:1 meetings for participants in a lounge
1:1 meetings at reserved and numbered tables (networking tables)
meetings with partner staff at dedicated tables
Setup meeting times similar as above. In addition, set up a meeting area (e.g., 'Lounge') or meeting tables (e.g., 'Networking tables').
To set up meeting times go to Admin > Participant meetings > Settings > On premise networking times:
To set up the meeting spots go to Admin > Meeting spots: