Video livestreams are the right choice if you need to reach a wide audience or need a seamless integration into talque. It's also perfect if you want to share your life events on other social media platforms.
For live streaming you send your encoded live video (via RTMP) to a streaming platform such as Vimeo or Youtube Live. The streaming platform transcodes it into different video formats and resolutions. As a result, participants can watch the video stream on a variety of mobile devices and browsers.
There are several ways to realize livestreams with different levels of technical skills and workload required.

How to integrate a Live Stream in talque
To integrate a livestream in talque you need to obtain the embed link from you streaming platform and enter it into the session profile in Video > Session Video. Please add a preview thumbnail to your livestream and choose the option Video can be watched at any time. If you run the same livestream through several consecutive sessions, you may want to use the option Video can be watched after session start for the second and subsequent sessions.

If you have booked a livestream from us, we will provide the embed link together with the RTMP credentials. If you use your own streaming provider, you need to obtain the embed link from the provider. Here's how to obtain the embed link for a Vimeo livestream: Open the livestream and on the Embed tab click on Embed Code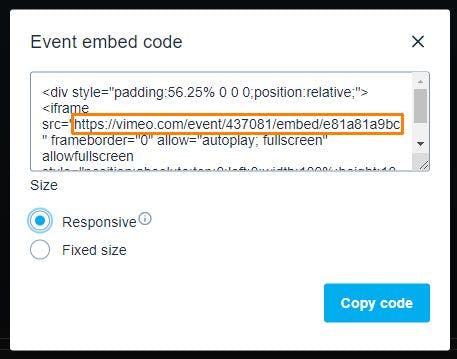 Streaming from Zoom
On of easiest ways to produce a livestream is from the video conferencing platform Zoom. Invite the speakers and moderators into a Zoom call. Then stream the call directly from the Zoom cloud to a streaming platform like Vimeo.
If you have booked livestreams from us, we will setup the livestream for you and provide the necessary credentials that you need to insert into the Zoom web interface.
The big advantage of this solution is that you can keep things simple:
no highspeed internet connection
no video production team
no complex new software to get familiar with
Here's how to set up a Live Stream from Zoom

Streaming from a Studio Software
Livestreaming from a studio software like OBS, Vimeo Studio or Youtube Creator Studio allows you to produce a high quality livestream with professional feel. The software includes a switch that allows you to switch between and combine different input sources. It also encodes the resulting video stream into RTMP.
The input sources include live camera feeds, video calls, prerecorded videos and break slides. If you have inbound and outbound video calls at the same time you need to ensure a sufficient bandwidth of your internet connection.
Studio software is quite complex so it makes sense to hire a professional video production team.