Booking & Registration Management
For the whole event by registration form and for sessions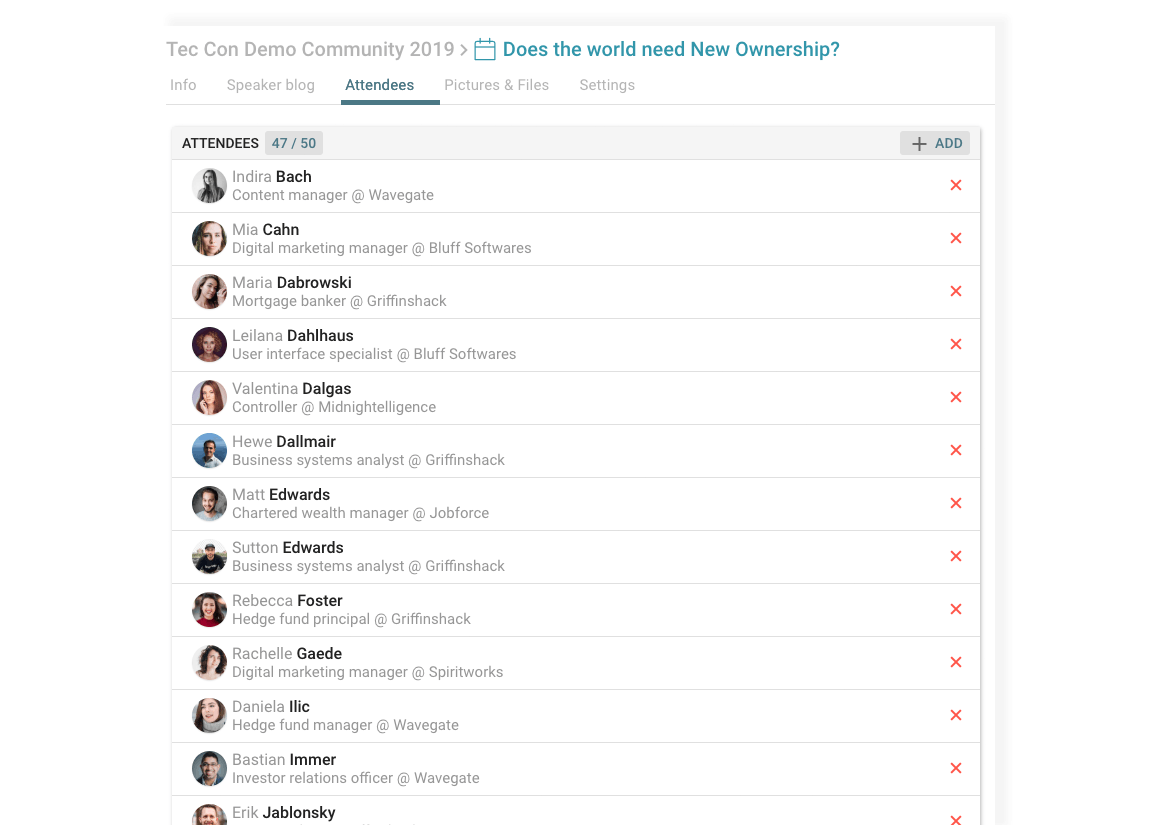 Stay up-to-date with your participants' bookings in real time. You can easily manage and organize registrations and bookings for your event in advance with a registration form on your event website and the booking management via the talqueCMS. But your participants can also book individually created sessions, such as workshops, talks, pitches and much more in advance, so that you and your team have a better overview of the number of participants and capacities.
The participants can easily register for sessions by confirming their participation in your event community - on the desktop or in the app/web app. All participants who have confirmed their participation for this session will be displayed in a clearly arranged list. As an event organizer, you can even add participants yourself or remove them from the participant list. Furthermore, you can easily download real-time statistics for all your sessions in talqueCMS.
Define capacities
You can assign certain capacities to rooms in talqueCMS. For example, a workshop that is only designed for 10 people can be defined with a capacity of 10. Once 10 participants have registered, the capacity is reached and further participants who register for the workshop will be put on a waiting list. This way you as the organizer can easily see whether you should move certain sessions to other rooms with more capacity or which sessions are generally accepted by your participants in the run-up to the workshop.

Exclusion of parallel bookings
If two sessions take place at the same time, the organizer can decide whether parallel bookings should be possible or not. If capacities are allocated to the parallel sessions, a participant who agrees to participate in a session can no longer be registered as a participant in the parallel session and automatically ends up on the waiting list for the parallel session in case he wants to change his mind again. If a parallel session has already been booked, the participant receives a message during the parallel session that he or she can only re-register as a participant if he or she cancels the other parallel session.
If you want to know more about this feature or the talqueCMS, just contact us.
Your event app is available for iOS Apps from the App Store and for Android Apps from Google Play. Have fun!
If you have any further questions, please have a look at our FAQs or contact our support directly in the app, web app or web version.
If you like talque feel free to join us on Twitter, Instagram, LinkedIn or Facebook and give us a high five.