The best Matchmaking for a better Networking
Targeted and interest-based linking with content and participants – not only for B2B events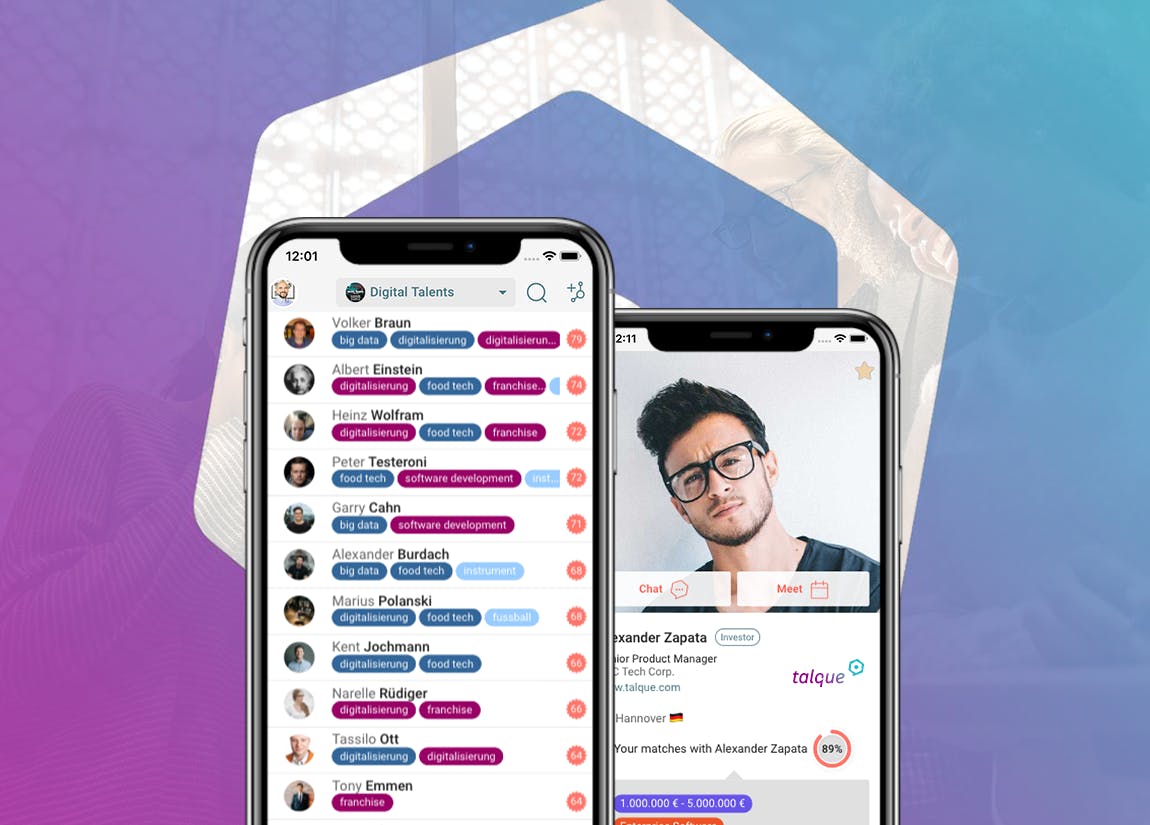 Matchmaking & Networking – is not just a current trend for event planners. It is a standard function, but not only for B2B events.
Organizers are already giving their participants the opportunity to get in touch and network with each other in the run-up to the event. With talque you can provide your participants with the best matchmaking. With a state-of-the-art matching algorithm in % (based on profiles/tags + machine learning/AI) to make particularly relevant suggestions. And that even far beyond your event.
Give your participants the opportunity to make contacts with people who harmonize best with their interests and skills. What they are looking for and what they have to offer. In this way you can provide contacts in a targeted way, whether professionally or privately. talque even shows how strongly a possible contact fit together and in which areas this is particularly the case.
If, for example, you are at an event where as a start-up founder you would like to establish contacts with potential investors and supporters on a professional basis, talque can show you exactly which potential investors suit you best and who are looking for exactly what you have to offer. Of course the same applies to designers, developers, concepter, project managers, CEO's, CTO's and many more.
Or if you plan to make a bit workout after the event, for example in tennis, but you don't have a suitable partner for it yet, then you can also find one via talque.
Or you are interested in technological developments and would like to exchange ideas in a like-minded round, so you can simply trigger this idea at your matches or get invited by them – and maybe or even definitely new projects will be born.
Nothing stands in the way of creativity for you and your participants when it comes to matchmaking.
If you want to know more about this feature or the event app / web app, just contact us.
Your event app is available for iOS Apps from the App Store and for Android Apps from Google Play. Have fun!
If you have any further questions, please have a look at our FAQs or contact our support directly in the App.
If you like talque feel free to join us on Twitter, Instagram, LinkedIn or Facebook and give the app a high five.