Website Plugin for Event Program
Customizable, configurable & always synchronized with talqueCMS and app data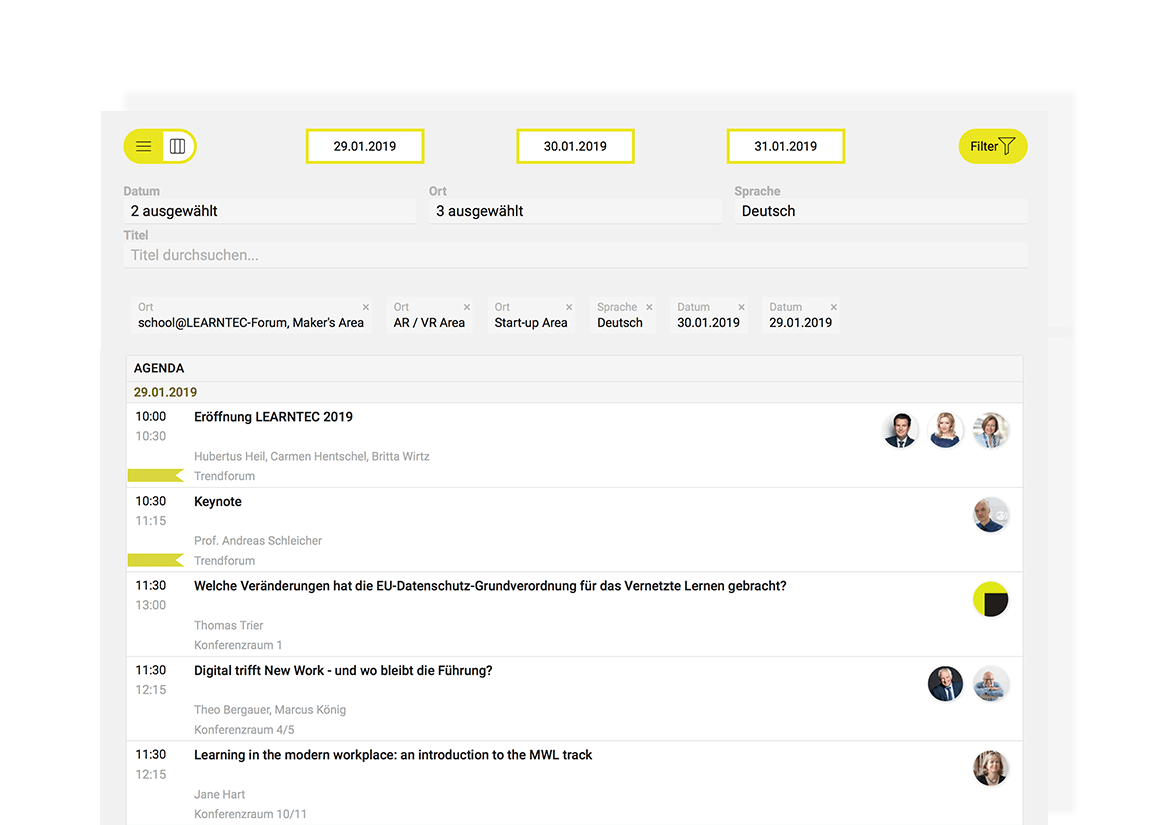 Why maintain multiple databases when it's easy? In just a few minutes you can set up the program for your event on your event website. With a plugin that is customizable and fully responsive. All data is synchronized live with the talqueCMS and the data in the App/WebApp.
The plugin is available for Wordpress and other websites (e.g. Wix) or can be implemented directly as JavaScript plugin. The plugin is also available for First Spirit CMS.
Customizable Design According to the CI of your event you have the possibility to align the plugin to your design and to create the right branding. As an example, you can easily give your speaker's profile pictures a style that is round, rectangular, or with rounded corners. With your own on-page editor or via additional CSS adjustments, you'll be completely open to your creativity.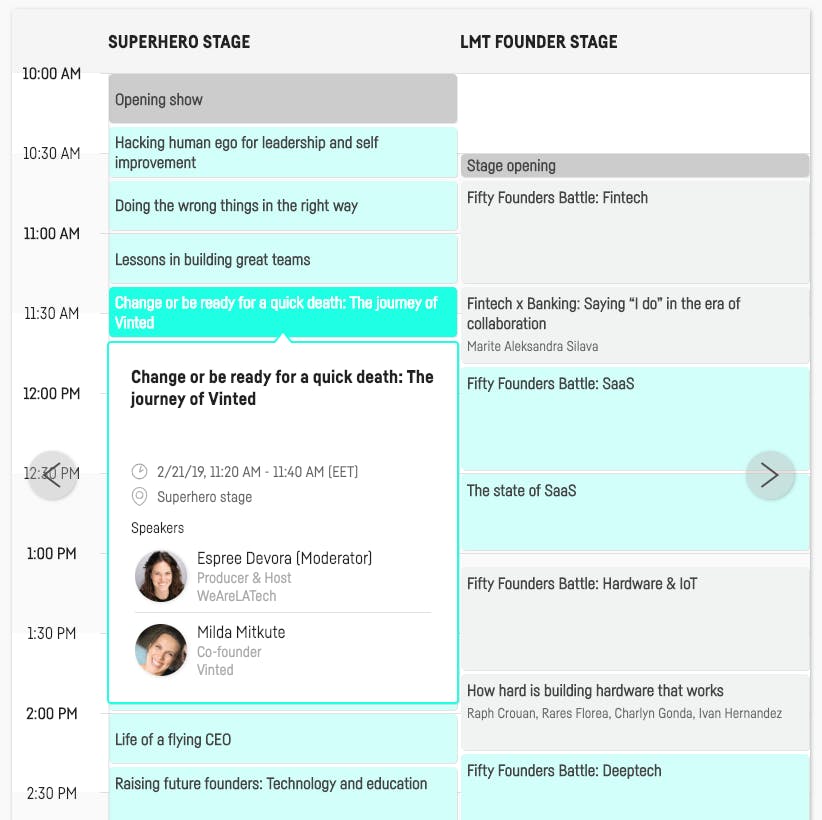 Program in table or list view You can create the program template in a tabular form or in a list view as required. There is also the possibility to let the visitor of your page decide freely which view he wants to use. Therefore there is a switch, with which you can easily switch between the views.
Program items can be highlighted In every event program there are program items that are absolute highlights. In order to communicate this to your participants and visitors of the website, you can set program items as highlights and these are highlighted graphically (customizable). So that no participant misses this highlight!
Detail pages for speaker profiles and program items For each session (no matter if talk, lecture, workshop, pitch etc.) there is a detail page where the content of the session is described in detail. The visitor to your event website sees the title, time, location and a description of the session and can use iCal to add it directly to his calendar. If the session has speakers or moderators, they will also be listed in the respective session.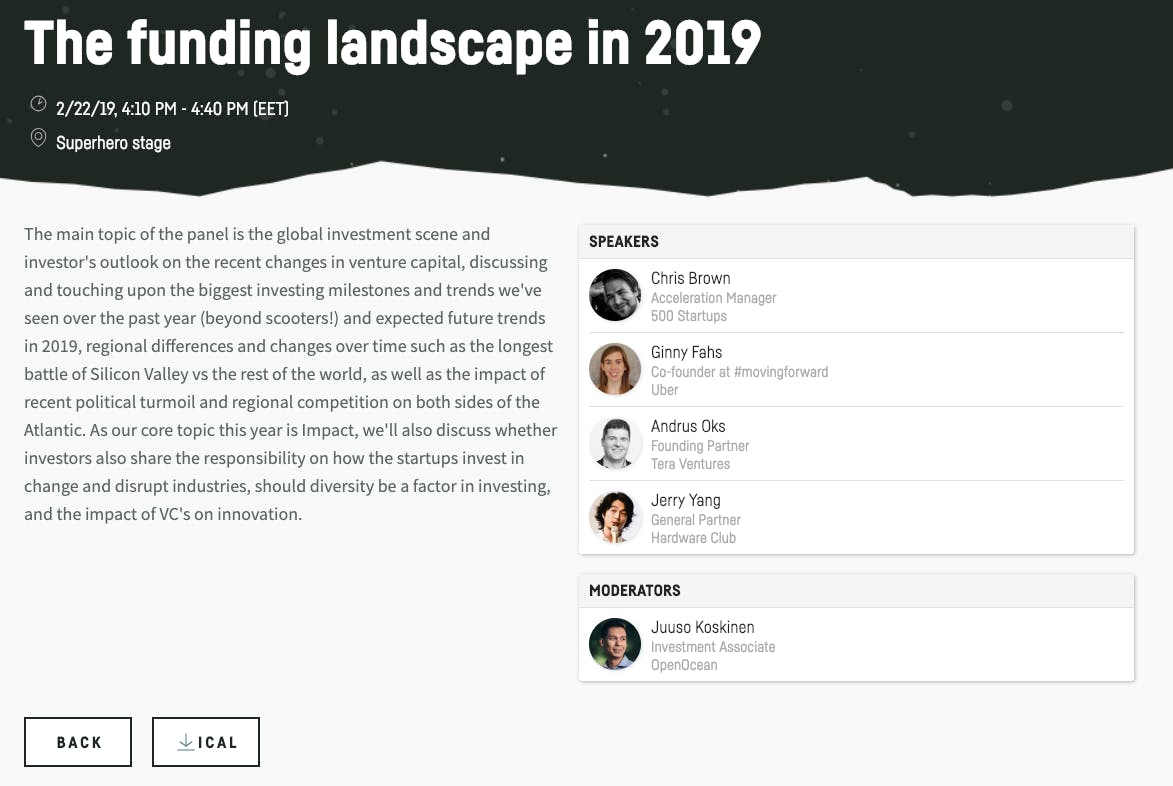 If the visitor then clicks on one of the speakers or moderators, a detail page for the respective person opens. The visitor gets now information about the person like company, position, region, social media profile (e.g. LinkedIn, Twitter) and a detailed description of the speaker or moderator. And on top: If he gets all further sessions in which the person participates listed on the profile page and if he finds the person exciting for him, he can take over all his sessions via iCal.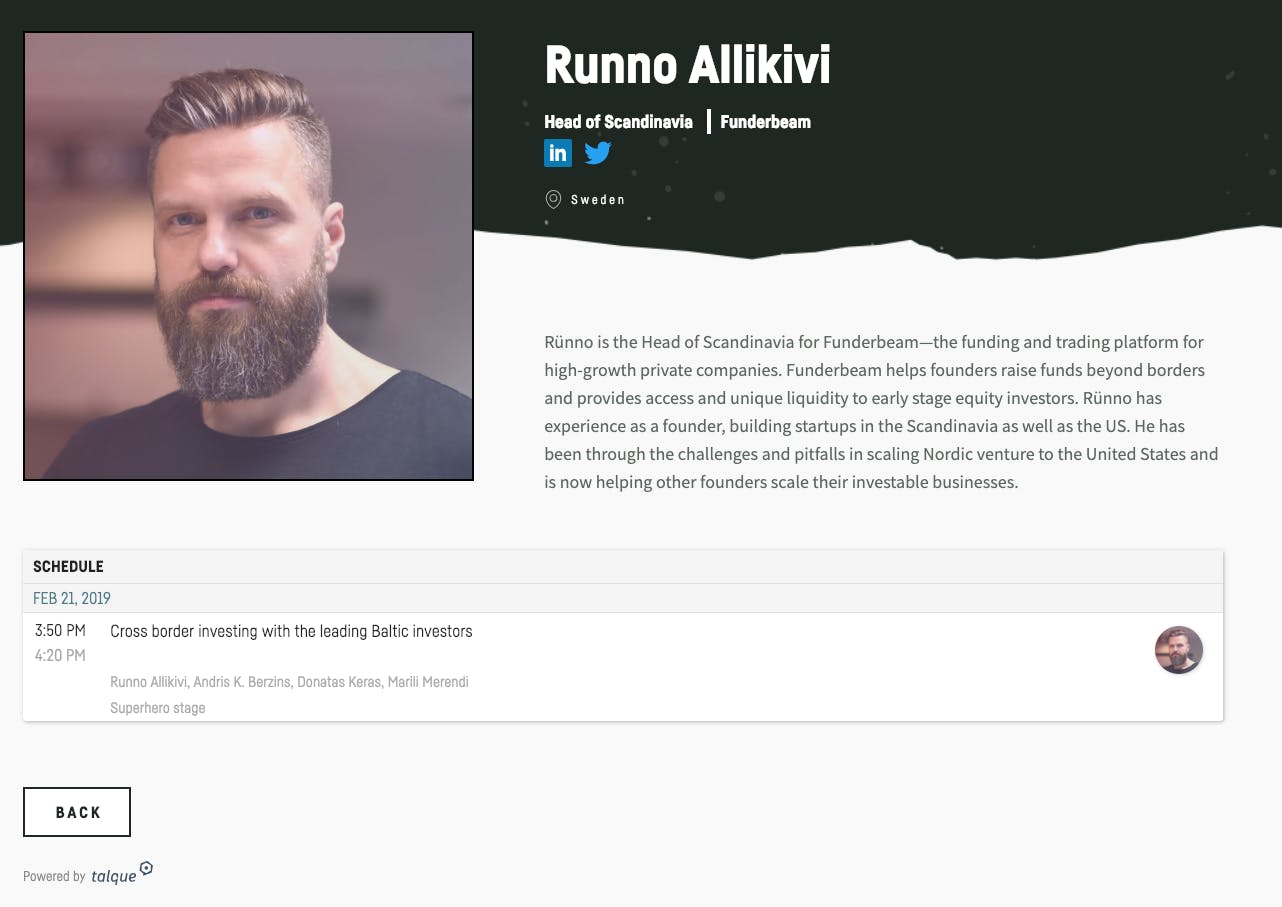 Filtering and searching Each participant of your event and visitor of your site has individual expectations and is interested in special topics of your event. The plugin provides detailed filtering options and a full text search so that every participant can immediately find the program items that interest him or her. Here the visitor can search and filter for example for topics, times, places and titles of program items and thus compile his individual program. And maybe he will find exactly the reason to buy a ticket for your event.
If you want to know more about this plugin, just contact us.
Your event app is available for iOS Apps from the App Store and for Android Apps from Google Play. Have fun!
If you have any further questions, please have a look at our FAQs or contact our support directly in the App.
If you like talque feel free to join us on Twitter, Instagram, LinkedIn or Facebook and give the app a high five.